Look in the Mirror
Today when you woke up and looked in the mirror, what was your first thought?​
​Are you looking to gain muscle, lose weight, fit into that bikini? Here's the key... are you listening... when looking in that mirror, are you being truthful with yourself?​
One of the hardest things to do is to commit to a workout progr...
Read Full Post »
Have you ever started an exercise or nutrition plan? The question is did you finish it. We all know when we start something new, no matter what it is, it seems so exciting, you're ready to do anything and everything, and conquer the world… AND THEN… ___________________.
I'm sure you can fill in the blank. Did your motivatio...
Read Full Post »
Spring Clean Your Nutrition!
Give your kitchen a makeover! No, not HGTV style, but actually get rid of the unhealthy options and figure out what you need. As we always stress to shop the perimeter of your grocer, get rid of as much processed foods as possible and start anew.
Plan ahead! Each weekend it's best to plan for the week ahead, make a grocery list and go to it. This means you can even cook only once or twice a week versus every night. I know that many of you ar...
Read Full Post »
How can you be more accountable? There are many ways and some work better for others. I wanted to give you a few tips to help you along in your journey, whether it be to lose weight, decrease body fat, or to even be accountable at home or at work.
Know your numbers. Keep up daily if not weekly on tracking your progress. Your goals should be measureable, and therefore you can see if you accomplished your goals a...
Read Full Post »
We want you to realize that in order to become the next BIGGEST LOSER, don't be the 'The Biggest Loser'!
Why do we say this? When you are watching from home and looking for motivation the show, 'The Biggest Loser's perception is that these contestants are making true life changes; learning to eat better, exercise, and even more awesome, incredible fat loss.
What you really don't know (according to past contestants and host) is that where weigh-...
Read Full Post »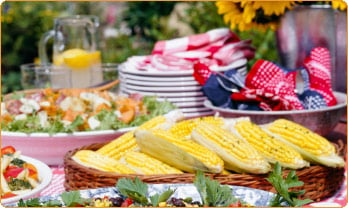 It's warming up… what does this mean about your food choices?
Typically as things heat up and cool down we tend to shift our food choices. Did you know that when it's hot out, typically restaurants keep it cooler? No this is not just to keep you comfortable, but to get you to eat more! Believe it or not, research has shown that heat typically lowers your appetite....
Read Full Post »
Did you know that March is National Nutrition Month? Consumer research confirms that taste tops nutrition as the main reason why one food is purchased over and over. What does this mean to you??? Time to make food taste great while enjoying healthy options!
You don't have to have the same old piece of chicken or plain broccoli. Looking for some great recipes to try? Follow us on Pinterest (redzonepeak) for many great recipes, health tips, must try items and more!
http...
Read Full Post »
Too often people have conflicting fitness goals: they want to put on muscle, but at the same time lose body fat. This kind of conflicting goal leads you to not achieve either of your objectives!
The kind of diet and workout required to optimize muscle gain and fat loss are fundamentally different; both in terms of amount of calories as well as the macronutrient ratio breakdown. ...
Read Full Post »
Are the flavor drink packets good for me?
So here's the deal… most of the flavor drink packs typically have little to no nutritional value. The upside, some flavor to you water without all the junk in most drinks. Just because the marketing looks healthy on many options, does not mean that it is!
They will not derail your nutrition and do provide more flavor options so you do not get bored. With all of the heat many of us experience, it's a way to hydrate yours...
Read Full Post »
With Valentine's Day on Friday, I felt it was only appropriate to give you tips of the heart…
For the first time, the American Heart Association has defined what it means to have ideal cardiovascular health, identifying seven health and behavior factors that impact health and quality of life. We know that even simple, small changes can make a big difference in living a b...
Read Full Post »