| | |
| --- | --- |
| Posted on March 17, 2014 at 9:00 AM | |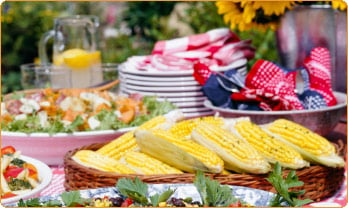 It's warming up… what does this mean about your food choices?
Typically as things heat up and cool down we tend to shift our food choices. Did you know that when it's hot out, typically restaurants keep it cooler? No this is not just to keep you comfortable, but to get you to eat more! Believe it or not, research has shown that heat typically lowers your appetite.
Research has also found that hot food typically digests faster. If after you eat you are still hungry, try eating raw vegetables or have a cold drink 30 minutes after your meal. Be aware what your beverage of choice may be (water, versus juice, versus beer). Also, make great fruit and dessert choices!
The good news, typically during this time of the year we do not tend to eat as much during this time of the year. Then you can top it off that everyone is typically more active getting bikini ready.
Categories: Nutrition & You